VENUE



The JMSM'2015 will take place at Faculty of Science and Technology, Fez, Morocco on November 91-21, 2015.
Faculty of Science and Technology
PO Box 2202 – Route d'Imouzzer – FEZ – MOROCCO
Phone. +212 (0) 535 60 80 14 – +212 (0) 535 60 96 35 – +212 (0) 535 60 29 53
Fax : +212 (0) 535 60 82 14

GPS:
Latitude : 33.999102 | Longitude : -4.988674
Elevation : 450 meters

Regular bus lines
FST can be reached by taxi or bus from the city centre (direction Avenue Moulay Abdellah-Imouzzer road) to the following bus stops located nearby:
Bus stop : n° 13, 16 - main lines bus stops : Train station (bus station), Mosque Tajmoueti Mosque, Avenue des FAR, Court of first Instance (rond-point Atlas), Route Imouzzer.
Taxi
Fez City area taxis can be identified by their red color. Faculty of Science and Technology Imouzzer road (7 km from the city center).




Hotels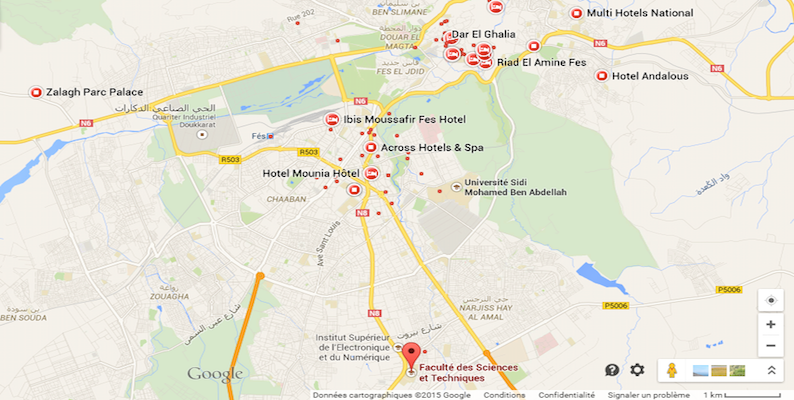 Hotels click here